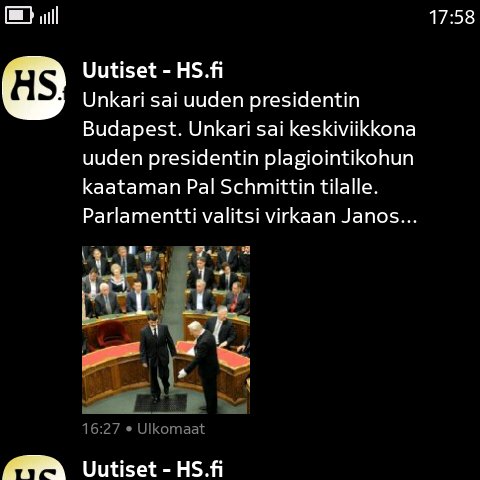 RSS To Events
About RSS To Events
RSS To Events is a Nokia N9 application which publishes RSS feed items in the home screen's events feed and links the items directly to the URLs pointed to by the items. Atom feeds are not supported at this time.
Usage
The RSS feed URLs can be chosen through Settings -> Notifications -> Feed on home screen -> RSS feeds. Press the + button to add a new RSS feed URL or long tap on an existing one and select Remove to remove one. The feeds are updated on the interval defined in the Automatic updates settting on the Feed on home screen setting page.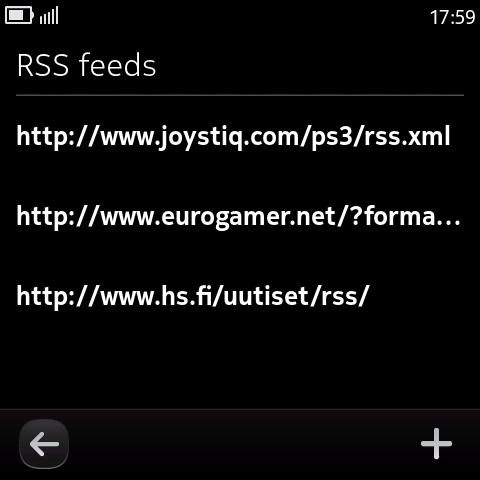 Downloading and installing
RSS To Events is available for download from the Nokia Store. If you encounter problems downloading please contact Nokia Store Support.
Uninstalling
RSS To Events can be uninstalled like any other application by starting Settings, selecting Applications, selecting Manage applications, selecting RSS To Events and then Uninstall.
Support and bug reporting
Bugs can be reported to the author, Vesa Halttunen.
Credits
RSS To Events is written by Vesa Halttunen.